The Alahna Rose Artificial Wedding Flower bouquets:
Jaw-Dropping Artificial flower Wedding bouquets were created and design for the lovely Alahna.
These fake flowers look and feel real. Something stunning and very individual and unique. These Bridal White artificial or faux Flower Wedding bouquets are ready to be sent today for your wedding.
Each bouquet is made in our studio in Melbourne, Australia. Designed and handmade for you.
Not to mention these faux flowers feel real to touch and looks so amazing.
Bou

qu

et Description
First: Allergy and sneeze-free faux flowers
Second:  look real and feel real
Third: They won't die
Forth is these flowers travel well
These flowers are the perfect example for your destination wedding e.g. our flowers went to Cancun Mexico
There are some places around the world that don't allow live plants or flowers. e.g.Hamilton Island in Queensland and Wilson's Promontory in Victoria
In addition, each bouquet is made with love and care to detail.
Each bouquet is finished with a beautiful satin ribbon
Full customisation available: Different ribbon colours, different flower colours for an additional cost
Sizes available for purchase: Extra Large, Large, Medium, Small Bouquets, Single flower designs for flower girls
Bespoke and unique designs available on request
Other silk, real touch and flock flowers available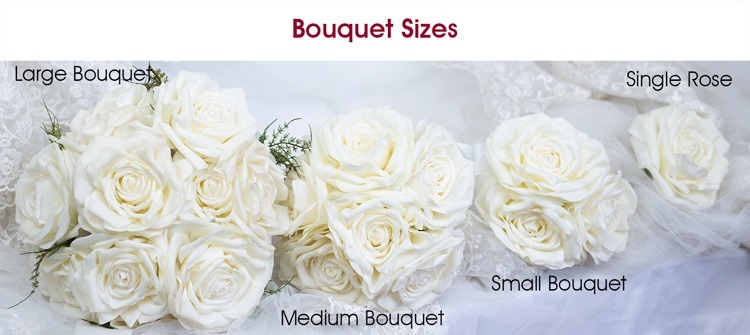 These uniquely graceful flowers are easy to care for. Also after your special day will look amazing sitting on the kitchen or dining room table. This is such a bonus!
Flowers that you can keep. Moreover are the memories of your wedding day!
Your favourite wedding colour!
These stunning flowers can be painted for you. As a textile artist, Beryl (me) specialises in hand-painting and hand-spraying silk and real touch flowers to match your wedding vision.
In addition, you might have a colour you want like red, yellow, maybe orange or purple. Other colours can be created for you
Time to confuse your guests:
They look real, your guests will not believe that they are not real
Bonus to not have to throw away your flowers after your wedding day
These flowers will start next to you in your photos
Blogs
Check out our blog on: Winter Flower Crowns
Learn how to take care of your beautiful bouquets.  Faux Flower Care
Book an appointment with Beryl today to discuss your wedding dream
Email: Beryl@ForeverYoursFlowers.com.au