Flower Free Wedding Bouquet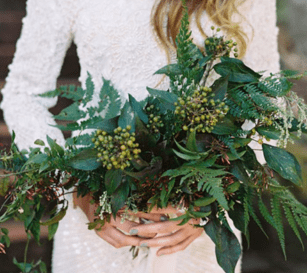 At Forever Yours, Flowers, we live and breathe artificial flowers. And those breaths are beautiful and sneeze free! But we know that not everyone is as into flowers as we are. We've got some great ideas for things to clutch as you walk down the aisle if you're not too keen on traditional flowers and want a flower free wedding bouquet.
There are so many options when it comes to a flower free bouquet. Couples use buttons, pearls, paper, wire and lollipops, to name just a few. Bouquets are often where a bride wants to show off her personality, and why not?
1. Succulents
Succulents are great if you love the idea of a quirky bouquet, but still want to give tradition a nod.
There is such a beautiful array of wild, exotic and just plain interesting succulents. You can opt to go for Australian natives, or something more wide ranging. Either way, with a collection of succulents you are sure to have a captivating bouquet.
Whether you go real or artificial for these (we can totally help with the latter!), you will be able to keep your bouquet forever.
2. Something Sweet
Keep it sweet with your favourite confectionery! Lollipops make a great alternative to wedding flowers. You can use them as a pop of vintage inspired colour, a whimsical colourful whirl or a lean towards monochrome or steampunk.
If you go with lollipops instead of wedding flowers, however you choose to incorporate them, there's no denying that they are a fun option!
3. Get Creative
As we said before, couples use buttons, wire, paper and pearls. But why stop there? Love the beach? Think about shells and salvaged coral. Got a bit of 1920s flapper in you? Why not ornate vintage brooches? When it comes to your flower free bouquet, your imagination is the only limit! Well, your imagination and crafting prowess... But that's what google and Etsy are for!
4. Greenery
Whether you want a tightly bound and pretty posy or a large, elaborate cascading bouquet - greenery is a great way to go.
Greenery is a great way for any modern bride to go, especially if she wants to turn heads with a dynamic choice. Not only is a greenery bouquet at the height of current wedding fashion it is also a very cost effective choice.
If you're wanting a beautiful but less expensive bouquet, think greenery.
As soon as you start thinking outside of the traditional bouquet box, you may realise that the options are endless. Feel free to get creative with your no flower bouquet, it is afterall, yours. But why stop at just a no flower bouquet? If you really aren't feeling the floral love, check out our blog on Flower Free Weddings for some inpo.
And of course, as always, let us know if we can help! Yes, we love allergy free artificial flowers but we also have a wide range of artificial greenery and succulents.