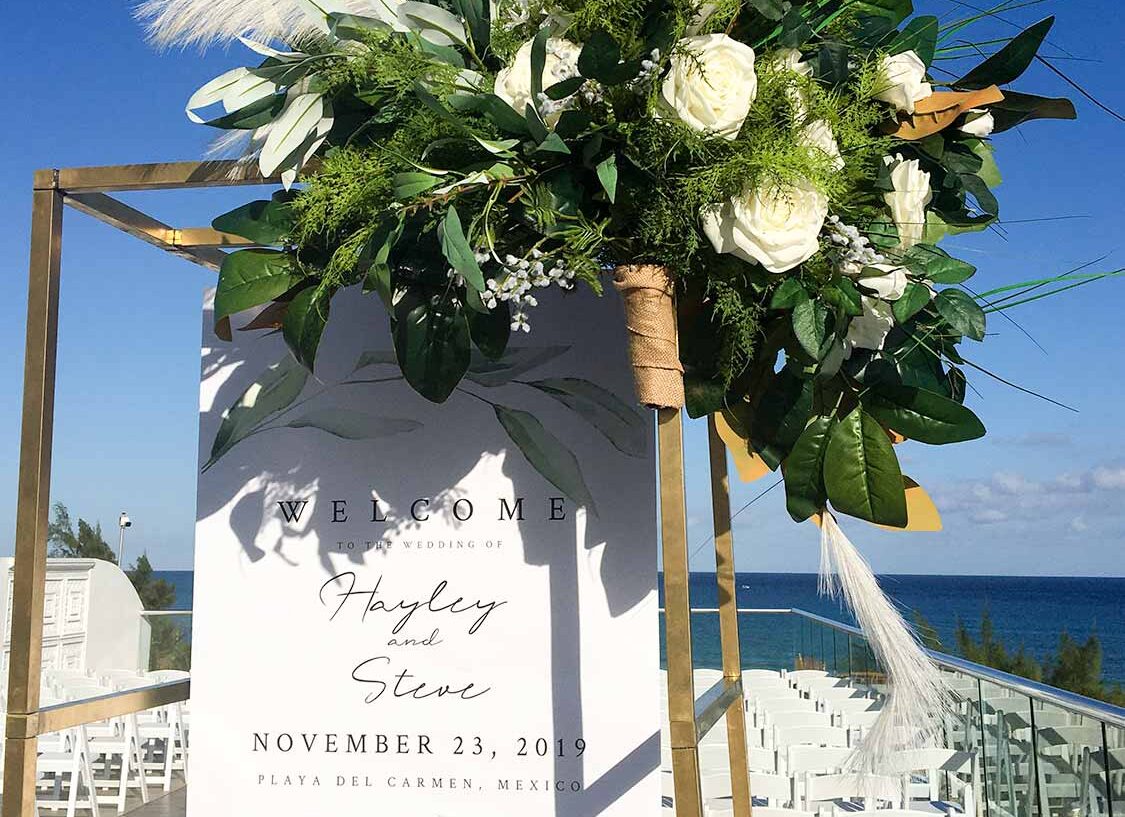 When people say wedding arch, they often think of highly curated wreaths of flowers. But wedding arches come in many varieties to suit every taste and wedding theme. It can be artfully arranged branches, vines, sculpted metal, well draped fabric or pieces of timber. And when it comes to a DIY wedding arch, you really are limited only by your imagination.
Simple can be sublime
While some wedding arches are elaborate and ornate, 3 tree boughs bound together with a sprig of flowers can make the same impact. The beauty of this more rustic approach is that you can choose beautifully cut, sanded and stained pieces of timber or bang together a few branches.
Simple structures with leafy green arrangements, trailing ivy or a vintage crocheted table cloth can be absolutely stunning. Plus, they are easy to DIY. You can even buy some dowel and DIY a teepee. Why not?
Simple doesn't have to be boring when it comes to wedding arches. After all, you and your significant other are supposed to be the main attraction! And nothing embraces simplicity like some artfully draped cloth. You could even forgo the physical arch in favour of the idea of an arch.
All you need to embrace this simplicity is a handy tree, a ladder and some beautiful cloth. You can choose to add on with something like a beautiful hanging chandelier, crystals or flowers. But really, the cloth, and you underneath it will be the feature.
Be sure to buy cloth that drapes well. Choose fabric that is flowy and fluid so that you get just the right drape. Some good choices are satin, voile, charmeuse, chiffon and gossamer.
Note: tulle is not your friend when it comes to draping. It's stiff and creases easily.
Embrace the floral
Wanting something a little less rustic? You can buy or hire pre-made metal arches to suit any wedding theme. You can then organise the flowers to go in it! At Forever Yours, Flowers, we hire fully completed wedding arches. Designed, created and delivered. But it is completely doable if you would like to create your own flower arch.
Buying artificial flowers instead of fresh will allow you to play with the design and give you time to create and go back to fix any mistakes or changes of mind. You also won't have to stress about storage as much. You could be putting your gorgeous DIY wedding arch together weeks or even months before the big day!
If you're set on fresh flowers for your wedding arch recruit a few helpers and have a cool space ready for storage.
Fresh or artificial, there are two ways to approach your DIY wedding arch. You can either create an arch thick with flowers or choose to wire a few beautiful arrangements to points of the arch.
Make sure you have time to make any last minute adjustments when you get your beautiful creation to the venue.
Happy Wedding DIY!
Whether you decide to create your own wedding arch or commission a florist and/or a wedding decorator, we'd love to see what you come up with! Drop us a line if we can help by supplying a wedding arch (for purchase or hire), some beautiful artificial flower stock so you can DIY your own arch or some created just for you floral (or greenery!) arrangements to wire to your arch.